Fortnite finally has its highly-anticipated account merging feature, which allows players to transfer skin and V-Buck purchases in Save the World and Battle Royale from one account to another. Below, we'll tell you how to do it and why it's useful.
Why You May Need to Merge Accounts in Fortnite
The primary reason you'd need to merge two Epic accounts is because you started playing on PS4 and were forced to create a secondary account to play on Xbox One or Switch.
This issue was resolved when Sony enabled full crossplay and cross-progression in September of last year, but those who played Fortnite before then may be stuck with multiple accounts. Account merging unites the purchases of the PS4 account and a secondary account.
How to Account Merge in Fortnite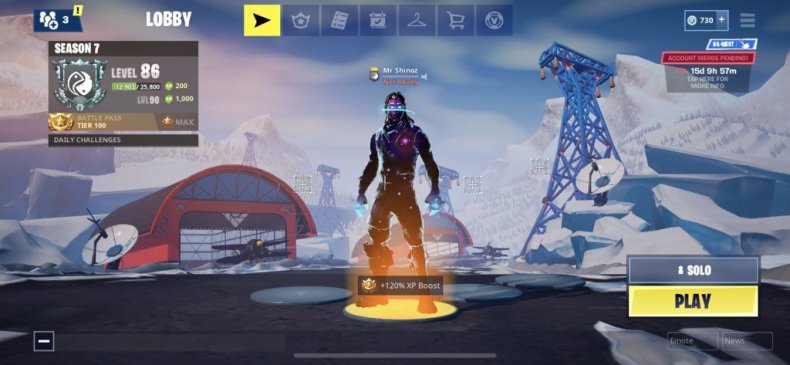 Here's how the process works:
Go to the Fortnite Account Merge website here.
Select the platform for your Primary Account. This is the account you intend to use as your main one in the future.
Sign in with the proper PlayStation Network, eShop or Xbox Live credentials.
You'll be asked to input a short code that will be sent to the email address tied to that account.
Input the code and sign in with your secondary account.
You may need to input a second code just like before. Repeat the steps.
Shortly after that, the two accounts you signed into will be merged to the Primary Account. All purchases from the Secondary Account will transfer to the primary.
After the merge process, you'll see an "Account Merge Pending" message in the lobby. In two weeks, the process will be complete.
What are the Limitations?
One account must be Xbox or Switch, and the other must be played on PS4 prior to September 28, 2018. If this is not the case, you don't need this feature.
In-game items and V-bucks will be held for two weeks before merging.
Your accounts can't be banned or disabled.
Battle Royale merges all cosmetics.
Save the World merges Llamas, Defenders, Heroes, Schematics, Survivors, XP, as well as Evolution and Perk materials.
Marketplace Items, Creative Islands and Save the World account level progress do not merge.
That's all you need to know about Account Merge in Fortnite
Fortnite is available now on PS4, Xbox One, Switch, PC and mobile.
Have you merged your Fortnite accounts yet? Which one is your primary? Tell us in the comments section!
Source link